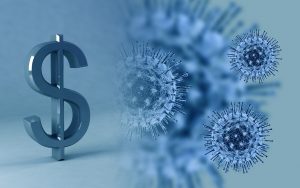 On Friday, March 27, 2020, the President signed phase three of the COVID-19 relief acts, also known as the CARES Act , in order to assist Americans with the current pandemic. The CARES Act provides much needed stimulus to small businesses, families, individuals, and hospitals in response to the economic distress caused by COVID-19.
The CARES Act provides relief for certain distressed sectors of the U.S. economy and a health care response as Americans deal with the COVID-19. The new relief act has over 800 pages of detail and further guidance is yet to come. cHb Advisors wants you to know we are here to assist you as we all manage the current medical and economic challenge.
---
Below are the top five takeaways from the CARES Act:
Provides $1,200 to Americans making $75,000 or less ($150,000 in the case of joint filers and $112,500 for head of household) and $500 for each child, to be paid as rapidly as possible.
Creates a $349 billion loan program for small businesses, including §501(c)(3) non-profits and physician practices , called the Payroll Protection Program loan. This loans has forgiveness components attached to it.
Expands eligibility for unemployment insurance and provides an additional $600 per week on top of the unemployment amount determined by each state. This can apply to self-employed individuals.
Allocates $500 billion for assistance to businesses, states and municipalities, with no more than $25 billion designated for passenger carriers, $4 billion for air cargo carriers, and $17 billion for businesses critical to maintaining national security. The remaining $454 billion may be used to support lending to eligible businesses, states and municipalities.
Allocates $130 billion in relief to medical and hospital industries, in order to manage medical supplies, and drug and device shortages.
---
Below is additional detail of specific areas of the CARES Act . Click on the block for additional information, or visit chbadvisors.com CARES Act Resource Page.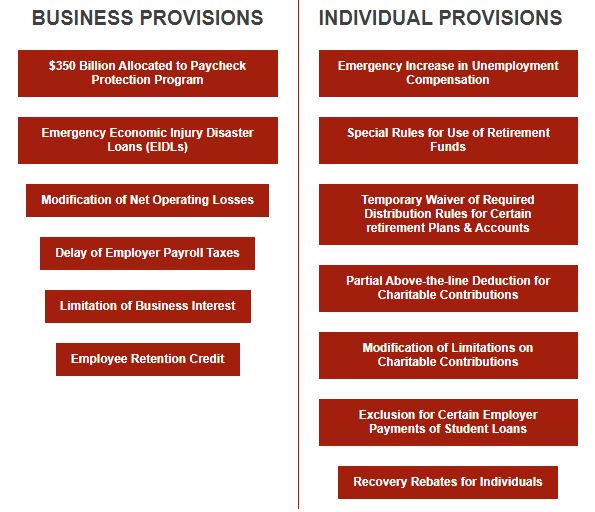 Please let us know of any questions you may have, and thank you for the continued opportunity to be of service.
---
---
Any tax advice included in this written or electronic communication was not intended or written to be used, and it cannot be used by the taxpayer, for the purpose of avoiding any penalties that may be imposed on the taxpayer by any governmental taxing authority or agency.